These STEM Jobs Approved Colleges understand the importance of aligning their programs to high demand, high paying STEM jobs and helping their students achieve those career aspirations.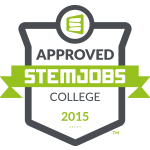 [su_button url="http://stemjobs.com/wp-content/uploads/2014/12/SJA_Colleges_List.pdf" target="blank" style="flat" background="#5aa71d" icon="icon: trophy" desc="Click to view the 2015 recipients"]STEM Jobs Approved Colleges[/su_button]
Why you and your students should care:
1. THEY ALIGN THEIR STEM PROGRAMS WITH HIGH PAYING JOBS THAT ARE IN DEMAND
Almost all schools offer STEM degree programs, but many institutions never connect their academic programs to real-world job requirements. These schools look at the job market and adjust their programs to meet those ever-changing demands.
2. THEY HAVE PROGRAMS, RESOURCES AND RELATIONSHIPS THAT HELP THEIR STUDENTS GET JOBS
Every school has a primary mission—for some it's research, for others it's community. For these schools it's preparing students for success after graduation.
3. THEY ARE ATTRACTING AND SUPPORTING DIVERSE STUDENTS AND FACULTIES IN STEM FIELDS
STEM career fields lack diversity. It is no secret that critical STEM employers need to attract greater diversity in order to continue to lead in the global marketplace. These schools not only understand that, but
are actively working to change that equation.
4. THEY HAVE SPECIFIC RESOURCES DEDICATED TO SUPPORTING STEM STUDENT ACHIEVEMENT AND SUCCESS
For years, STEM degree programs have taken pride in their washout rates. These schools understand that an academic mission is about education—not weeding out. They help STEM students thrive within rigorous programs to achieve long term success.
[su_note note_color="#e9eae9″]STEM Jobs Approved Colleges ratings are based on a combination of publicly available data and survey responses. Some schools did not report or could not provide sufficient portions of the data to be considered for rating in this publication. Ratings are provided for all participating schools based on their available data online.[/su_note]